Ed tells his life story while answering the question: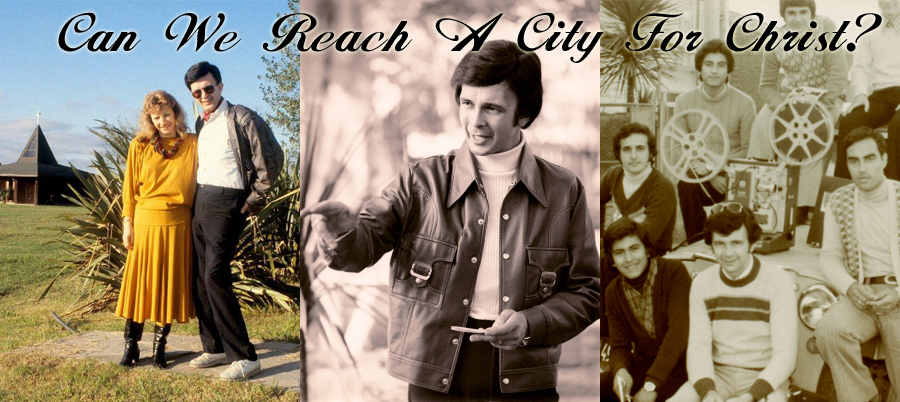 PRINCIPLE: Cities are central to God's redemptive strategy. The Great Commission begins with a city' Jerusalem' and culminates when another city' the new Jerusalem' becomes God's eternal dwelling with His people. In order to fulfill the Great Commission, we must reach every city on earth with the gospel.Hello
IS IT POSSIBLE TO REACH AN ENTIRE CITY FOR CHRIST? This was one of the first and most persistent questions I asked myself as a new believer. Acknowledging that God wishes that none should perish and that Christ gave Himself in ransom for all (see 1 Tim. 2:4,5; 2 Pet. 3:9), I constantly wondered what it would take for the Church in a given city to take the good news to everyone there.
I received the Lord when I was 13 and living in my native Argentina. The best decision I made as a new Christian was to have a weekly appointment with God. Every Thursday, at 7:00 P.M. sharp, I rode my bicycle to the western shore of the Parana River in my hometown of San Nicolas. During that precious hour, I poured out my heart to God, trying to understand the loneliness I felt as a born-again Christian high schooler in a spiritually skeptical town of almost 100,000 souls. If Jesus was indeed the only way, why was it that no one else wanted to find Him?
In preparation for my weekly time with God, I regularly read books on revival—about God's mighty work in England, Wales, Bavaria and the United States. Yet that high tide of joy was inevitably followed by an equally powerful undertow of disappointment at the bleakness of Argentina's spiritual situation.
"

WHY IS IT,

"

I ASKED GOD,

"

THAT ALL THE REVIVALS
 I READ ABOUT HAPPENED NORTH OF
 THE EQUATOR? IS ARGENTINA GOD'S 
UGLY DUCKLING?

"
Week after week, I begged God to send a touch of revival, and as part of that, to allow Christians to reach an entire city for Christ.
Evangelistic Outreach As A Teenager
When I was 14, I was picked out of my local church to be a youth evangelist and canvassed the streets of San Nicolas weekend after weekend. However, at the end of each year, I could not count the number of converts on the fingers of one hand.
In the summer of 1963, my church held meetings every day of the week. Each night after church, the youth gathered at my parents' house for fellowship. We prayed, sang, and ministered to each other, often late into the night. After a few weeks of this, we were "charged up" spiritually, eager to do something for God. We met with our pastor, and he directed us to go to four nearby towns that had no strong Christian witness. I thought, Maybe we will find the way to reach an entire city for Christ.
We put together quite a dream team. At 17, I was the evangelist. My associate preacher was 15. The music director, my sister, was 14, and the director of follow-up was 13. Working under him was "the youth" of the group. The oldest person in the group was 19 years old.
THE DREAM OF SEEING AN ENTIRE CITY
 REACHED FOR CHRIST WAS VERY FRESH IN 
MY MIND AS WE TACKLED THOSE TINY 
HAMLETS. IN MY MIND I WAS BILLY 
GRAHAM, AND WE WERE GOING TO REACH
EVERYBODY WITH THE GOSPEL.
We made sure that everyone heard the gospel. We even led a satanist to Christ. In spite of these victories, we did not see mass conversions. Again, my question was, "Why not, Lord? Why not here in Argentina?"
When I turned 20, I was drafted into the army. I dreamed of leading the entire battalion, 900 strong, to the Lord. During the time of my enlistment, I saw a small stream of converts. When discharge day came, I asked permission to give the farewell speech, hoping to see a mass movement of conversions. I witnessed a trickle of responses, but the rushing river I was hoping for never materialized.
Hospital Administration, Marriage and More Crusades
Eventually, I took a job as a hospital administrator in a newly built facility in San Nicolas. During my second year in this job, I married Ruth. As much as I liked my job as a hospital administrator, the real joy came "after hours" when I would rush home, eat a quick dinner and drive with Ruth in our newly acquired 1947 Chrysler to evangelistic meetings. This mammoth vehicle could hold all of our evangelistic paraphernalia: 16 collapsible chairs, a small pulpit, Ruth's guitar and accordion, two boxes of Bibles and gospel tracts, and a variable number of "ministry associates." The car was constantly "overbooked," which resulted in some of our associates riding on the laps of their fellow "ministers."
One of those crusades took us to a small town nearby, where the local brethren invited us to hold an open-air campaign. Amazingly, we saw 92 decisions of faith made in that campaign! Afterward, I was asked to be the preacher for this emerging congregation. We held church meetings four times a week and two evangelistic meetings on Sundays. Even though we saw some growth, and the entire village heard the gospel, we did not see a book-of-Acts kind of evangelistic explosion. I wondered if maybe the long hours spent at my hospital job were a contributing negative factor.
Mar del Plata, the First Church and Luis Palau
A year later, Ruth and I with our first daughter, Karina' took a full-time pastorate in the beautiful city of Mar del Plata, Argentina's French Riviera. Having no additional job to take up my time, we all worked hard and saw our church grow. The dream to see a city reached was always in the forefront of my thoughts and prayers. I bought a map of Mar del Plata, marked on it the location of every church, and prayed for those churches regularly. I networked as much as possible with their pastors. We saw some results but nothing spectacular. After about a year, Luis Palau, Ruth's brother, invited us to join his newly formed evangelistic team, and we moved to Mexico City. Ruth and I enjoyed setting up crusades for Luis, producing TV and radio programs, and arranging presidential prayer breakfasts. Luis loved cities, he loved sinners and he loved preaching to the multitudes.
QUITE OFTEN, LUIS AND I WOULD TALK INTO THE WEE HOURS OF THE NIGHT ABOUT REACHING ENTIRE CITIES FOR CHRIST. WE SAW SIGNIFICANT NUMBERS COME TO THE LORD. BUT STILL, NO CITY WAS FULLY REACHED.
Multnomah and Fuller Theological Seminary
In the early 1970s, Ruth and I took some time off from the Palau team to take the graduate course at Multnomah School of the Bible in Portland, Oregon. Afterward, we went on to attend the School of World Mission at Fuller Theological Seminary in Pasadena, California.
The biblical foundation obtained at Multnomah, combined with the missiological stimulation I received at Fuller, brought home with greater force than ever my youthful dream to reach entire cities for Christ. While working with Luis, we did see many cities open up to the gospel for the first time. Luis even led to Christ the president of one nation. This was unheard of before. Also, our team pioneered the use of secular radio and television to saturate entire cities with the gospel. I believed that mass evangelism was the best tool to reach the world for Christ.
Enter C. Peter Wagner, associate professor of church growth, who had just received his Ph.D. from the University of Southern California. Dr. Wagner led the class through a factual critique of mass evangelism. As he presented his research on major evangelistic thrusts in various regions of the world, he concluded that most of them did not translate into church growth! According to Wagner, on an average, such crusades produced at best a mere 5 percent numerical growth in church membership. This represented a poor return on the amount of money and effort invested. In a few other cases, Wagner's research revealed that mass evangelism resulted in a decrease in church membership.
AS DR. WAGNER SYSTEMATICALLY EXPOSED THE MINIMAL IMPACT OF MASS EVANGELISM, I CAME TO THE CONCLUSION THAT OUR CRUSADES WERE NOT AS EFFECTIVE AS WE HAD FIRST BELIEVED.
This tension constantly challenged me to find a way to reconcile these opposing conclusions. I found the answer while preparing an assignment for Dr. Wagner's class. I drew up a plan to evangelize an entire city by combining the effective aspects of mass evangelism with the church growth principles taught at the School of World Mission. This is how "Plan Rosario" (named after a city in Argentina) came into being. Shortly after that, Ruth and I found themselves settling down in Rosario for our experiment in "city taking."
With a population of 700,000, Rosario was popularly known as the "Argentine Chicago," and, in Christian circles, as the "cemetery for evangelists." It was also the center for spiritism in central Argentina.
Plan Rosario
Overall, "Plan Rosario" was a very positive experience. Many local churches participated, and the results' by church growth standards' were 10 times better than the average. Next, we went to Uruguay, where we tried the same approach on a national scale, evangelizing simultaneously in five major cities. The results were even better than in Rosario, and by using radio and television extensively, the whole country was blanketed with the gospel. The number of public decisions of faith was three times higher than in Rosario, and the percentage of incorporation into churches was 20 percent higher. The fact that all this happened in Uruguay was also very significant because the country prided itself in being a nation of atheists.
Everything looked promising except for one serious problem.
MY HEALTH HAD BEGUN TO DETERIORATE. MY MUSCLES WERE WEAKENING. MY SPEECH WAS SLURRED, AND I SUFFERED FROM DOUBLE VISION AND SHORTNESS OF BREATH.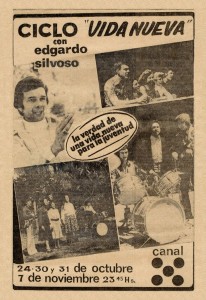 By 1978, I had developed a severe case of a very serious illness, myasthenia gravis. This is an incurable disease similar to multiple sclerosis and in the same family of illnesses as Lou Gehrig's disease. My health deteriorated to the point that it was necessary for us to move back to the United States to be near Children's Hospital in San Francisco, where an experimental treatment was in progress.

I later learned that my illness was partly the result of spiritual warfare. Satan was exploiting an area of my life where I had given the enemy an entrance, mainly through ignorance. I came to realize that God was teaching me basic principles related to suffering, spiritual warfare and intercession. God would teach me that reaching entire cities for Christ did not depend on formulas or methods, but rather on the application of biblical principles and a deeper walk with Him.

Serious Illness and Medical Treatments

While I was very grateful for the excellent and helpful medical treatments I received, some of the procedures were as painful as the illness itself. At one time or another I was receiving 16 injections a day. That adds up to 480 injections a month!

I also took 42 pills daily, in addition to 1,500 milligrams of cortisone and occasional chemotherapy by mouth. Once or twice a week I was hooked to a machine that performed a plasmapheresis. It slowly drained out all of my blood and disposed of everything except the red and white cells, which were in turn pumped back in along with human albumin to make up for the volume of lost fluid. Because this treatment removed all antibodies from my blood stream, for 48 hours I was totally vulnerable to infection. I also had to undergo a thymectomy, which is a major surgical procedure. My sternum bone was split in two, my rib cage was retracted and the tissue under the sternum was removed. The most discouraging fact to accept was that none of these procedures was capable of providing a cure for me—they were simply done to keep me alive.
IN 1980, MY DOCTOR TOLD ME I HAD, AT MOST, TWO YEARS TO LIVE. AT THAT MOMENT, RUTH AND I DECIDED TO REALLY TAKE A LEAP OF FAITH.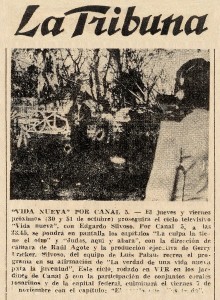 We resigned from the Palau Team in order to concentrate whatever time I had left, on our quest to find a way to reach cities for Christ. It was an extremely difficult decision because of our love for Luis and the team we had helped develop.

Harvest Evangelism is Born

With only 30 days of insurance left with the Palau Team, and my medical bills very high, one night I prayed decisively for supernatural guidance. During the night, I had a dream in which I saw myself and a group of his friends launching a new missionary organization called "Harvest Evangelism." The next morning, the phone rang. It was Daniel Craig, one of the men from my dream, calling from Los Angeles. He had heard that I was leaving the Palau team and wanted to know what he could do to help in the transition! Then and there I knew that God wanted us to start a new missionary organization. On August 30, 1980, Harvest Evangelism was officially and legally born.

Because my health was poor and our resources were depleted and time was running out, we decided to concentrate on building a retreat center in my native city of San Nicolas. Our hope was that when I was gone it would become a training center to reach cities for Christ. Part of the reason for choosing the location was that it was close to 109 small cities, towns and hamlets within a 100-mile radius that had no local church.

On March 24, 1983, we dedicated the retreat center. We challenged the pastors and leaders of the surrounding areas to reach each one of the 109 unchurched towns with the gospel. Part of me was able to see it as done through the eyes of faith. However, when I looked into the mirror, my natural eyes saw something totally different. The combination of prayer and medical treatment had stretched the initial prognosis from two to four years, but I was barely hanging on. My body was ready to quit anytime.

Carlos Annacondia and Mass Conversions

Then, dramatic events began to unfold. First, something changed in "the heavenlies" over Argentina.
A BUSINESS OWNER AND LAY PREACHER BY THE NAME OF CARLOS ANNACONDIA HELD A THREE-MONTH CRUSADE IN LA PLATA, WHERE IT WAS REPORTED THAT 40,000 PEOPLE MADE PUBLIC PROFESSIONS OF FAITH IN CHRIST.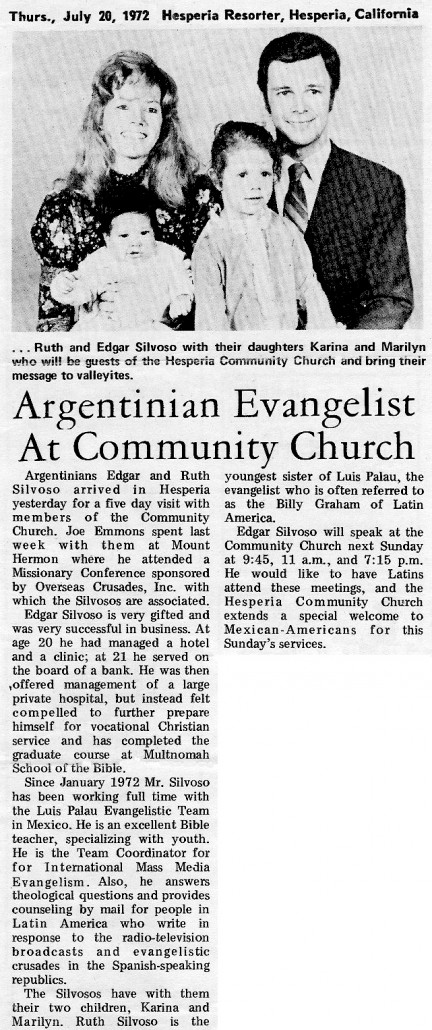 That was something totally unheard of at the time. At first, we questioned the veracity of the report. However, Annacondia next moved on to Mar del Plata, where close to 90,000 decisions were reported. He then went to San Justo, where almost 70,000 people publicly repeated the sinner's prayer. From then on it became a flood of decisions as city after city was shaken by the ministry of this unknown lay preacher.

Can you imagine what happened to a cozy, well-organized congregation of 50? When a flood of new converts came in, the church quickly ran out of everything, from toilet paper to paper cups, from folding chairs to Sunday School teachers. Some traditional churches went into shock.

But other churches were ready to scrap tradition and make radical changes in order to cope with the avalanche of new converts. One of these was the church of Pastor Alberto Scataglini in La Plata. He went so far as to remove the pews from the church so more people would fit inside the building.

In this context, I was approached by pastor friends requesting training for their laypeople. I was flattered by the request to become a key trainer, but I was also down to my last ounce of energy. Myasthenia gravis was written all over my body.

Illness Unto Life

This desire led to the second event that would dramatically change my life' an introduction to intercessory prayer. Harvey Lifsey, president and founder of Christian Dynamics, an evangelistic and discipleship organization at the time based in Southern California, had come to Argentina to teach on prayer. He and my dear friend Mario Gentinetta, an intercessor himself, challenged me to entreat God regarding my illness. We decided to set aside three days for intercession for the purpose of finding out from God if my illness was an illness unto life or an illness unto death.

We pleaded with God that if it pleased Him, by Wednesday at bedtime He would make His will known to me. Monday and Tuesday went by with no word from God. Finally, on Wednesday at midnight I was heading for the training center after dropping Harvey off at his hotel. I asked God if He was going to speak to me that night.
AT THAT VERY MOMENT A POWERFUL PRESENCE OF GOD LITERALLY INUNDATED THE CAR. IT WAS SO REAL THAT I BEGAN TO PRAY, PRAISE AND WORSHIP HIM IN A WAY UNKNOWN TO ME.
As soon as I parked the car at the training center, the Holy Spirit took over and led me through hours of prayer in a Romans chapter 8 fashion—He prayed for me and through me. "In the same way, the Spirit helps us in our weakness. We do not know what we ought to pray for, but the Spirit himself intercedes for us with groans that words cannot express" (Rom. 8:26, NIV). He led me to specific passages in the Bible and spoke to me from each one of them. I had never experienced anything like this! At the end of that amazing night, I knew that my illness was an illness unto life. I also knew that God had chosen to heal me through a process rather than instantaneously.

The following six months turned out to be the worst period of my entire illness. I had to be hooked up to the plasmapheresis machine to survive. One of those days, the machine broke down and I almost died. On another occasion, the oral chemotherapy caused a reaction that almost cost me my life. Although that period was extremely difficult, I did not mind it. I knew that God's promises are tested by trials. I did not mind a good fight if I knew where the enemy was. Now I knew which way God's wind was blowing.

Sure enough, after six months, some elements of my treatment were no longer necessary. Over a period of four years, I was able to discontinue the injections, the chemotherapy, the cortisone, the oral medication and the plasmapheresis. Also, as my health improved, our team grew accordingly. God allowed us to launch El Puente, a Christian newspaper, in Argentina. A television studio in Buenos Aires quickly followed. Finally, a church-planting team was formally established.

Growing Ministry

In 1987, Dr. David Yonggi Cho asked us to organize his visit to Argentina. Seven thousand pastors and leaders from all over Argentina and neighboring countries attended the four-day seminar. We worked very hard to make it a truly interdenominational event. It was a resounding success with all denominations benefiting from it. As I like to say, "from the juiciest charismatics to the crunchiest evangelicals," everybody was there and went away blessed. Dr. Cho's visit catapulted us to national prominence. Our newspaper, guided by Marcelo Laffite, and the TV ministry, under Bill Kennedy's leadership, expanded this further.
ALL OF A SUDDEN, OUR DREAMS, MODESTLY STARTED AT THE RETREAT CENTER IN SAN NICOLAS, BEGAN TO MATERIALIZE ON A NATIONAL SCALE. REQUESTS FOR HELP BEGAN TO COME FROM ALL OVER THE NATION.
Enter Chuck Starnes. Chuck and his lovely wife, Sandy, had joined our team in 1987, just in time to direct the logistical aspects of Dr. Cho's visit. Following Dr. Cho's seminar, Chuck felt led to visit Resistencia, population 400,000, in northern Argentina, to assess the potential for a citywide outreach. Chuck also had a passion for seeing an entire city evangelized. His command of the Spanish language was limited at the time, but his passion for the lost and his love for the Church were contagious.

Plan Resistencia

We chose Resistencia for a number of reasons. First, we were invited by several pastors who had been meeting regularly. Second, the city had an unusually low percentage of believers (1.5 percent of the total population), which made it an excellent testing ground for our principles. Third, Resistencia is a key city in northern Argentina.

I remember the day we met with the pastors to officially suggest the outline for "Plan Resistencia." I spoke from 2 Peter 3:9, "The Lord is not slow in keeping his promise, as some understand slowness. He is patient with you, not wanting anyone to perish, but everyone to come to repentance" (NIV). I reached the pinnacle of my presentation when I described my dream about an entire city hearing the gospel. I spoke about 500 neighborhood prayer cells interceding for each section of the city; about celebrations of unity when different congregations in the city would come together to minister to the needs of the lost; about the day when every home in the city would be visited and every inhabitant would hear God's voice; about thousands of sinners saved by, and washed in, the blood of Jesus; of angels celebrating nonstop because sinners, lots of them, were coming to Christ day after day.
AT THAT MOMENT, THE PASTORS' ALL OF THEM' STOOD UP AND BEGAN TO CLAP ENTHUSIASTICALLY. EVERYBODY KNEW THAT GOD WAS READY TO POUR OUT HIS SPIRIT UPON RESISTENCIA.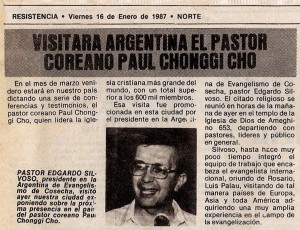 It was a sacred time. We acknowledged God's love for the lost in the city and the Church's commitment to the biblical principles of unity, holiness and prayer. We challenged the pastors to establish a perimeter of godliness in the city. The original group of pastors responded. They did this by meeting regularly for prayer, intercession and accountability. This was an auspicious beginning in a city where we were told 68 of the 70 existing congregations were the result of church splits.

As the pastors met, God met with them. The Holy Spirit began to work in their lives and soon a deep bond of love had enveloped them completely. The circle quickly expanded and soon more than half the pastors in the city had agreed to reach the entire city for Christ.

Pastors in Resistencia began to pray together regularly. They exchanged pulpits. They sent love offerings to needy congregations. They brought their people together to celebrate their newfound unity in Christ. They partook of the Lord's Supper together. Peter and Doris Wagner, and later, Cindy Jacobs, taught scores of leaders and pastors on intercession and spiritual warfare. Hundreds of intercessors were recruited, equipped and deployed all over the city to secure and expand God's "beachhead" in the city.

Satan's perimeter was infiltrated by 635 neighborhood prayer cells (called "lighthouses") scattered throughout the city. Little by little, every home in the city was prayed for. Answered prayers gave the Church favor in the eyes of the people. This favor was enhanced, first when the Church built 16 water tanks in slums with no running water, and later on when large donations of medicine and equipment were made to the public hospital.

Satan's perimeter began to be shaken when the pastors and their most trusted intercessors proclaimed the Lordship of Christ by serving an eviction notice on San La Muerte (Saint of Death) in the central plaza where a monument honors him. At that moment, open spiritual warfare began.
PASTORS AND LEADERS SUFFERED ALL KINDS OF ATTACKS. SAN LA MUERTE'S PRIESTS DECLARED WAR ON THE CHURCH. HOWEVER, GOD WAS IN CONTROL, AND HE SHOWED IT.
At the height of the conflict, San La Muerte's high priestess died in strange circumstances – the mattress she was sleeping on caught fire and burned her to death. Nothing else burned except her, the bed and the idol of San La Muerte in the room next door! The fear of God fell upon the city.

Taking advantage of the extensive and intensive prayer ministry of more than 600 neighborhood prayer cells, two major outreaches were executed. First, in one day the entire city (approximately 63,000 homes) was visited with a good news package, which was made available by Dick Eastman of Every Home for Christ Crusade through Rino Bello, its director in Argentina. The week before, the city was blitzed through TV with the announcement that the following Saturday "This package of good news is coming to your home." When homes were visited the following Saturday, many people were waiting for it. Prayers were freely and generously offered all over the city on behalf of the sick, broken marriages, rebellious children and financial troubles. Even demons were cast out. Eventually every home in the city was blessed.

That same night, the people of Resistencia were invited to go to a covered stadium to thank God for His blessings. Many people had to be turned away because the basketball stadium was not big enough to accommodate the multitudes that responded to the invitation.
THE MAYOR WAS THERE TO THANK US. THE MEDIA COVERED THE EVENT. THE SLOGAN FOR THE OUTREACH WAS,
"

RESISTENCIA, IT IS GOD'S TIME FOR YOU.

"

THAT DAY IT SEEMED THE ENTIRE CITY KNEW THAT.
The second event consisted of a series of simultaneous crusades, which saw thousands of people come to the Lord. The challenge of following through with them in their new faith was made easier by the hundreds of lighthouses spread out all over the city. They did the follow-up. The mayor acknowledged Jesus Christ as his Savior. Later on, two of the candidates for governor prayed to receive Jesus into their hearts. Also, medical doctors, journalists, one senator, aldermen, politicians and lawyers responded. At one point, we found ourselves inside the Provincial Court of Appeals with seven appellate judges, five of whom confessed Christ as their personal Savior. The city had indeed heard the voice of God!

In the past, when evangelistic campaigns ended, there had been bitter disputes over the distribution of decision cards. Mistrust was perpetuated amid charges of "sheep stealing." This time the pastors turned the guns around. Instead of aiming at division and mistrust, they went for unity and trust, and they decided to use the baptism of the new believers as the occasion. Rather than individual baptisms in separate local churches, they chose to have a mass baptism.
NO DISTINCTION OR MENTION WAS MADE OF THE INDIVIDUAL CONGREGATION THE NEW BELIEVER MIGHT CHOOSE TO ATTEND LATER. EVERYONE WAS BAPTIZED INTO THE ONLY CHURCH IN RESISTENCIA, THE CHURCH OF JESUS CHRIST.
Six months later, a church census was taken. To everybody's delight, the church had grown 102 percent. Beyond those encouraging numbers were blessings that cannot be quantified: the dismantling of the strongholds of disunity and apathy; the healing of old festering wounds among denominations; the training and deploying of intercessors; the newly found respect for the Church in the city; the favor gained in the eyes of the government and the media. However, even more significant was the development of a viable prototype to reach entire cities for Christ. The pastors of Resistencia had finally given the Church at-large a unique gift: a model for effective evangelism. By agreeing to turn their churches into a laboratory and themselves into spiritual guinea pigs, they allowed God to prove to them, and through them to the Church-at-large, that cities can and must be entirely reached for Christ.

An article published in the March 1993 issue of the El Puente newspaper implied that in the two years since the plan ended, the Church grew another 400 percent, bringing the cumulative growth to over 500 percent, and the total number of congregations to 200, an increase of 130 new ones. Those figures are not the result of a scientific survey but rather the opinion of the reporting journalist. However, even if only one fourth of this is correct, it will still set Resistencia apart as one of the most successful models for contemporary citywide evangelism.

On the day I left Resistencia, the plane took off toward the east, flying over the Parana River, which 700 kilometers further south washes the beaches of my native San Nicolas. This is the river that quietly listened to my youthful conversations with God week after week. Thirty years had gone by, and, finally, I had seen an entire city reached for Christ. I knew it then, and I know it now: That was not the end but the beginning of a new phase.

This story is an adaptation of chapter one, "Can We Reach a City for Christ?" from Ed's book That None Should Perish.